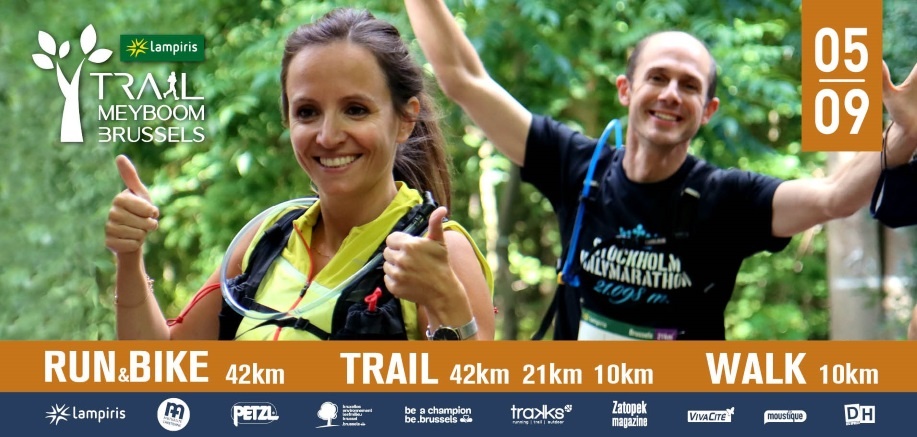 Brussels - 05th September 2021
---
As you probably know, the Lampiris Ecotrail® of Brussels has become the Lampiris Meyboom Trail Brussels and thus pays tribute to one of the oldest folk traditions of Brussels which consists, since 1308, in planting a tree every year in the heart of the city. With this new name, the organization wants to draw attention to the relatively unknown fact that Brussels is one of the greenest capitals in Europe.
It was also a question of reviving the spirit of the first editions. The Meyboom Trail thus returns to the roots of the project: to allow everyone to experience an event in a unique green setting, in a spirit of conviviality and above all in respect of the principles of environmental protection.
This year, there will be two long events: the 42 kilometers solo and the 42 kilometers duo "bike and run". There will also be two shorter events: a 21 km and a 10 km open to both runners and walkers. A tee-shirt is distributed to the first 1.000 participants.
The Meyboom Trail offers green courses, slightly adapted in 2021, and almost entirely free of traffic, even though it is located on the outskirts of the city center. A discovery that may surprise many visitors.
To avoid any waste, participants can order, via the registration form, the medal of the event "with double utility": commemorative and bottle opener.
The date of the biggest trail running event of the Capital is therefore set for Sunday, September 5, 2021. Registrations are already open. We can't wait to see you there!