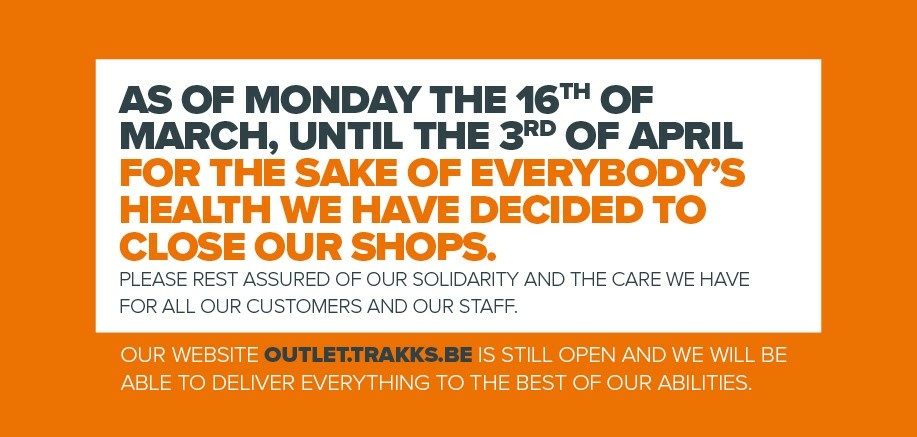 We will be closed from the 16th march to 3rd april
TraKKs a décidé dès aujourd'hui de fermer ses magasins en cette période de pandémie.
Les mesures décidées par le Conseil National de sécurité pour freiner la pandémie de coronavirus (COVID-19) nous obligeaient à fermer nos magasins le week-end mais pas en semaine.
Cependant, nous avons décidé de prendre des mesures plus strictes en fermant aussi nos magasins pendant la semaine.

Votre santé, celles de nos collaborateurs et de leurs proches est notre priorité et c'est cela qui a motivé notre décision.

Mais il est cependant toujours possible d'effectuer son shopping en ligne.
En cette période compliquée qui bouleverse nos habitudes, n'hésitez pas à profiter de l'activité en plein air. Il est prouvé scientifiquement que l'activité physique est excellente pour le corps et l'esprit. Cependant, il est conseillé de la pratiquer de manière solitaire pour éviter tout risque. Votre santé et celles des autres personnes, surtout les plus fragiles, doit rester la priorité.
Vous pouvez compter sur nous, préparons ensemble des jours meilleurs.

Cliquez vite sur le lien vers notre boutique en ligne  qui reste disponible 24h/24, 7j/7.
Code promo : STILLMOVING (20% chaussures et textiles)
 
Nous suivons avec la plus grande attention l'évolution de la situation.