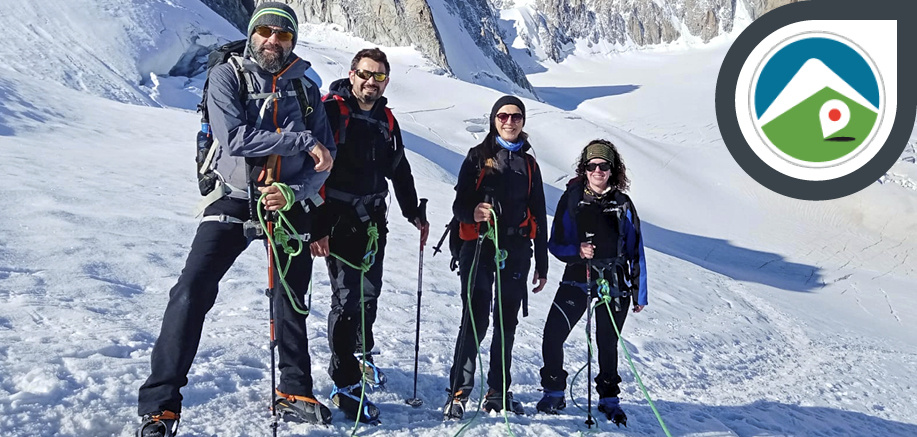 Beginner Mountain Climbing Adventure Around Mont Blanc
Join a top beginner mountain climbing program around Mont Blanc and develop your mountaineering skills with professional, certified guides.
---
 Every week from May to October
---
Your trip begins in Courmayeur where you will enjoy a short trip briefing and an equipment check before setting off for Val Veny. A hike and easy via ferrata will take you to rifugio Monzino where you will enjoy your first technical workshop and some rope practice. Then, the following day, you will take on some easy mountaineering practices around Col Chasseur. On the third day, you will hike down to Courmayeur with an optional via ferrata depending on the group level. You will transfer to the Skyway Mont Blanc cable car which will take you to rifugio Torino. Finally, on the last day, you will hike on ​​Géant glacier with crampons and ropes, enjoy some easy hiking around some nearby cols and return to Courmayeur.
This adventure is perfect for hiking enthusiasts looking to take their first steps into mountaineering, for those who aspire to climb Mont Blanc, and even for friends and families looking to share a unique adventure.
The price to join this tour varies whether it's a group or private tour, and the number of people that join. The starting price is EUR 1147 per person. It includes the guiding fee, liability insurance, lift prices, accommodation and breakfast, lunch on day 2, dinner on days 1, 2 and 3, loan of the technical equipment, photos and videos after the trip, and administrative fees.
---
---
Call to action
Take your first steps in mountaineering on this exhilarating 4-day program in the Mont Blanc massif and enjoy learning and practicing mountain climbing techniques in a unique setting with like minded people and the help of certified, local guides.
Info
1 May–31 October 2023
From 1147€