TraKKs Lab
Have a free stride. diagnosis done in-store
Why do a Trakks Lab
Personalised expertise to enable you to achieve harmony between your running technique and your stride. The TraKKs Lab is a real innovative analysis, which widens the scope of the scanning: covering the lower body, from your hips to your feet
Make an appointment in one of our stores: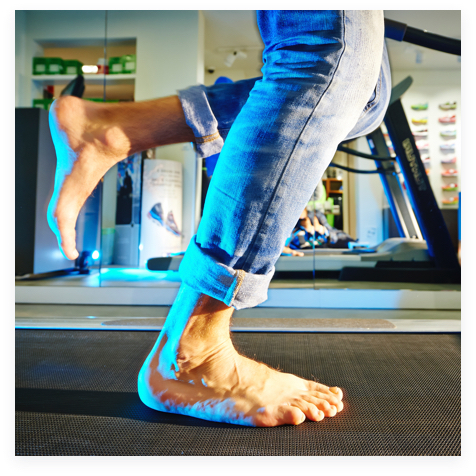 01
Video recording of your stride
A rear camera analyses your stride when the foot is laid down and when it is lifted to your hips, while a side camera, focused on the foot when it is laid on the ground, analyses your stride from the top of the knee.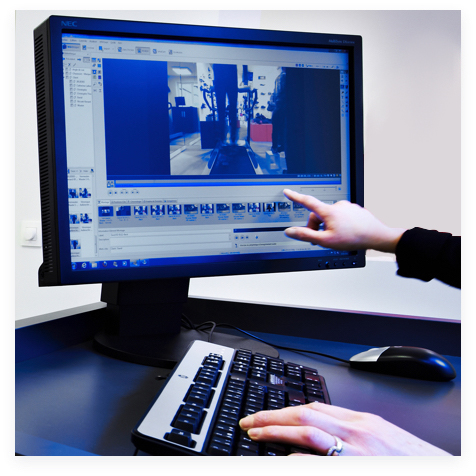 02
Analysis and freeze frame
Production of a free sequential study of your stride analysed on the computer: a freeze frame at each stage of the evolution of your stride. Our specialists will explain and recommend the shoe that will create harmony in your running (stride and shoes)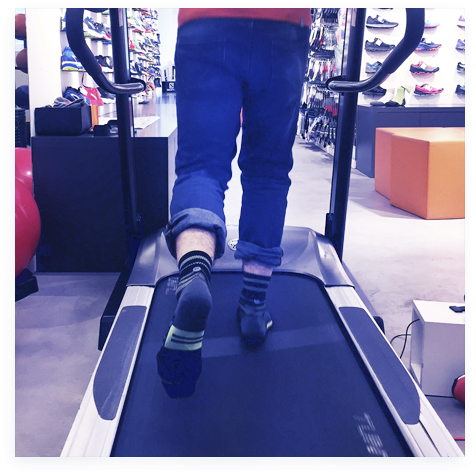 03
Technical advice from our experts
Our specialists will advise you how to modify your running technique. We are at your disposal and we will do our best to meet your requests.
TraKKs Lab
Free
Make an appointment for your free customised analysis in one of our 4 stores.
If you would like an appointment today or tomorrow, please call the store where you wish to do the TraKKs Lab.
Why should you do a running stride analysis?
Running stride analysis allows you to determine what type of gait you have when you run. Knowing your running style is essential for choosing the right running shoes, and for training to correct your gait if necessary. Depending on the degree of pronation (the way the foot rolls when you run), a correction may be necessary. Effective pronation acts as a natural shock absorber for the leg and body, allowing you to avoid potential injuries.
A pronated stride is when the feet roll too far inwards when running. On the other hand, if the feet roll too far outwards, it is called a supinator stride.
If contact with the ground is not controlled, this can create too much shock for the body and result in injuries to the heel, the achilles tendon, the feet, the shins, the knees, etc. In addition to good shoes that allow you to absorb the unparalleled shock of a pronated or supinator stride, training to improve your running technique allows you to run better, faster, and without injury.
Even if you have a so-called universal stride, with no imbalance towards the inner or outer supports, you need to develop your technique. Trust our in-store experts, who are themselves passionate about running, to give you personalised advice on both technique and equipment.
Following the TraKKs LAB running stride analysis, we will know your pronation type. We will then be able to advise you on running technique and the choice of suitable shoes. This is important to reduce the risk of injury and improve your running quality.
Technical advice following gait analysis
The in-store running analysis on a treadmill at TraKKs LAB gives us a clear picture of your running technique and pronation. Following the video analysis of your stride, during the treadmill analysis session, our in-store specialists will be able to advise you and help you find a pair of shoes adapted to your type of running.
To have an efficient stride, it is important to use the natural spring effect of the foot correctly. The impact of the foot on the ground is a very important element to take into account in the running technique, at the same level as the heart rate, the musculature, ...
Some people naturally have a very good gait, have a light foot placement, and do not get injured while running. Others unfortunately have a bad foot posture which has an impact on the efficiency of the race, and risks creating repeated injuries.
But improving your stride is not easy. It's like relearning to run: you have to concentrate on putting your foot down differently and changing your natural stride. It takes time, and with the right training and advice you will be able to improve your gait effectively. Visit one of our shops in Belgium to carry out a running stride analysis at the TraKKS LAB