Like barefoot or almost
Vibram came up with this foot glove made of a flat, supple sole with no cushioning or technology to control the foot. With the Fivefingers, you can regain the sensations of your arch, reactivate the muscles of your feet and feel your toes that are no longer stuck to each other as in a classic shoe.
There are models of Fivefingers for outdoors and indoors (Bikila Evo, KSO, KMD Sport ...), trail (Spyridon and Trek Ascent), everyday use (CVT-Hemp) and for water sports (Miaori). The philosophy remains the same for each of them apart from the type of lacing, the breathability and ... the sole adapted to the different terrains that your feet will have to encounter.
Patience is required to tame them
On the other hand, you will need a time of adaptation before Fivefingers really do…become one with your feet and give you pleasure in a sporting setting. Your foot muscles and your calves will work more, your stride will therefore logically change and it may take you several months before you regain the level of performance you had with a classic pair. If, on the other hand, you only want to regain plantar sensations, begin by walking barefoot at home as much as possible to "awaken" certain muscle groups.
In conclusion, the Fivefingers are very interesting, both for their design and their philosophy. However, we do not recommend them to everyone, but only to those who show a marked interest in minimalism in sports and to those who want to rediscover more natural walking sensations.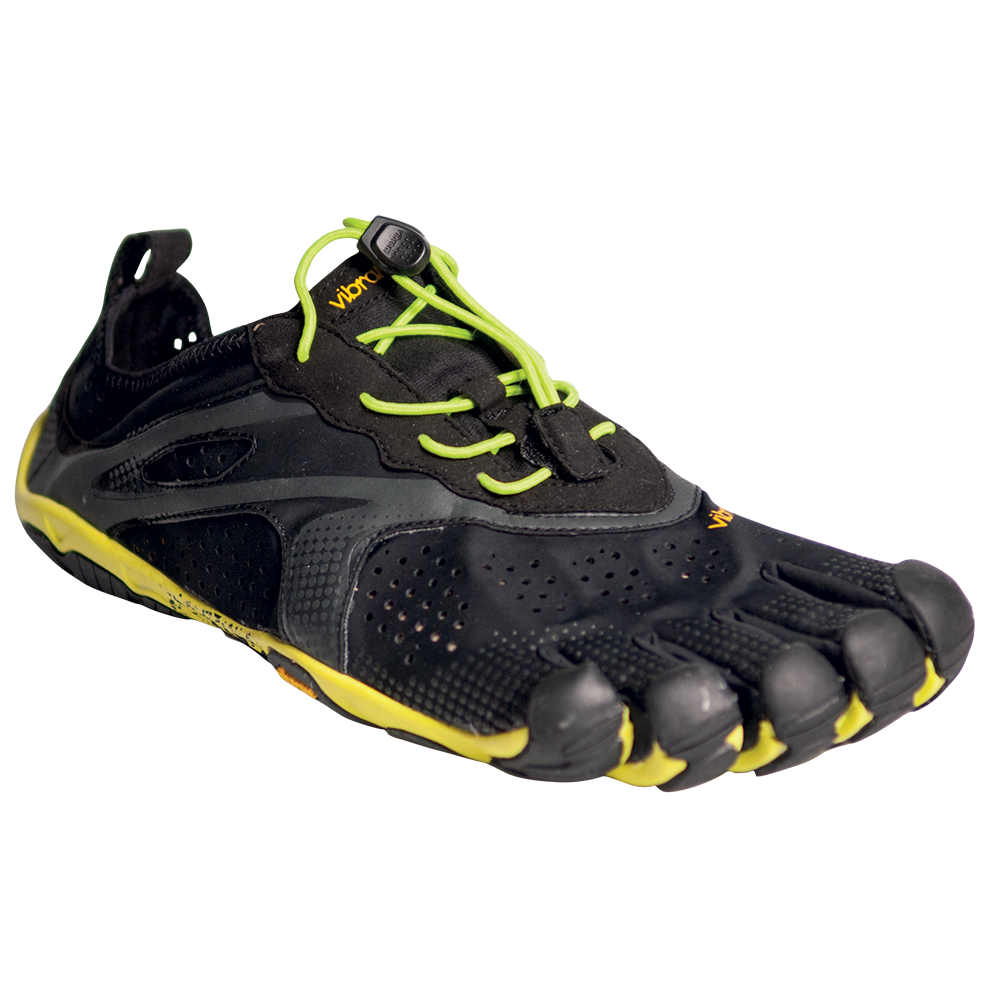 Specifications
Type of foot: Pre-middle foot stride
Use: Training / Competition
Surface: Road / Trail / Indoor
Weight of the runner: all weights
Weight: 220 grams
Drop: 0 mm
Insole: 3mm antibacterial polyurethane
Fabric: Breathable and resistant polyester
THE + 
Barefoot feeling but with the foot protected
More natural running, better stride, more complete muscle work
Versatile because they can be used on other terrains
Lightweight and supple
Quality sole for different types of terrain
THE -
Requires adaptation time that may be too long for some people.
Not suitable for all profiles (people with previous ankle injuries or suffering from certain foot pathologies)
Special Look
Difficult to put on the first time
See on the outlet