A light adapted to your environment
The "revolution" proposed by the Reactik headlamps is the beam that adjusts to the ambient luminosity through a sensor. The light intensity varies according to whether you are in a park that is slightly lit or in pitch-black darkness. Without any manipulation on your part because everything is automatic or almost. The lamp offers various programmed profiles, which can be set on the "my Petzl Light" application, such as trekking, mountaineering or trail running but you can also create your own.
The main advantage of "reactive" light is the optimisation of the battery life. Thanks to its double beam, the Reactik + offers up to 300 lumens (only 190 for the Reactik) for 2h30 of burn time. By keeping "constant lightning", you can only use 180 lumens for the same duration. The lamp is not lacking in power since under extreme conditions it can offer visibility up to 50 meters in front of you and about ten meters around you.
Lightweight, it proved itself perfectly resistant to the almost daily rainfalls that have accompanied us through the month of October and its comfortable headband around the head adapts to all head types and absorbs sweat on the forehead.  It is regrettable that the buttons are not always easy to adjust during effort.
A (re)charging system in need of improvement
The Reactiks having chosen the path of connectivity, the charging is via a USB cable on a tablet or a smartphone. And that's where things come unstuck. It takes at least 4h30 to fully charge the lamp. In other words, your smartphone will also need to be plugged in ... Not ideal for situations where you need to recharge it urgently in the middle of nowhere. There are many spare batteries but they have to be bought separately, just like the battery pack. But the latter has the big drawback of losing ... 60% of the light intensity.
Thanks to Bluetooth, you will keep on your smartphone valuable information on your lamp like the back-up battery power. You can even send rescue messages in Morse : something to delight friends of connectivity lost in the wilderness. It is indeed these demanding athletes focused on the personalisation of their equipment that the Reactiks aim to attract. Without neglecting the versatile athletes who will appreciate their different programmes and their lighting power in energy-saving mode.
F.Chl.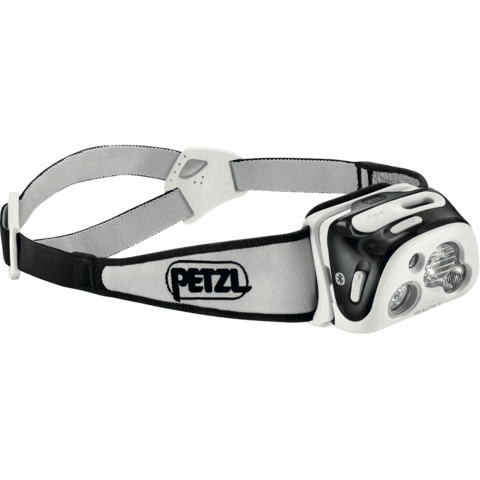 Specifications
Constant lightning and Standard Lightning Technology
Beam pattern : wide and focused
Charging and battery compatibility : rechargeable 1800 maH Lithium-Ion battery via micro USB. Can be replaced with a three-battery pack (not included : 9,95 euros)
Recharge time: 4h30
LOCK function to avoid accidentally turning it on during transit or storage
Red lighting mode to preserve night vision
Luminous charge indicator
Weight : 115 g (105 g with batteries).
Watertightness : IP X4 (water resistant)
Can be programmed thanks to the MyPetzl Light application. Requires iOS 7.1 or later and Android 4.3 or later
Price : 76,30 € (Reactik) 96,90 € (Reactik +)
THE +
Surprising power and reactive luminosity that is very user-friendly
Various settings that will delight the most demanding of athletes
Red lighting mode when you need a soft and limited light
General finish of the product
Weight
THE -
The buttons are too small and too hard to adjust during dynamic activities
Fairly long charging time
Significant loss of power when the USB battery is replaced with a standard battery pack
eShop