An insole that offers cushioning and dynamism
With a heel-toe offset (drop) of only 6 mm, the natural stride, called the "mid-foot", is obviously favoured.
From the very first stride, you feel like increasing your speed at the risk of burning your calf muscles, as the kilometers increase. The Mazama requires a precise stride and leg muscles that are in good shape.
In the woods, amongst the dead leaves, mud and frost, we could not find fault with our shoes, thanks to their outsole made of sticky rubber equipped with directional lugs for good grip quality and uphill and downhill traction superior to other models.
Brooks' midsole is a combination of two concepts to provide cushioning and dynamism that adapt to the runner's speed and weight. Ideal for transitions between terrains that are muddy, dry and asphalted.
Ideal for more summery conditions
The gusseted tongue incorporated in the inner-bootie provides good support. This is ideal for people with narrow feet, less so for others who will feel a little cramped, especially during long runs when the feet tend to swell a bit. The lightweight and ventilated mesh is not particularly suited to the current wet winter conditions. We are not talking about Gore-Tex here, and a pair of thicker socks would not be a luxury. It would still take a few months of further testing or a test done further south to see to what extent the mesh relieves your feet when the temperature rises.
The rubber toe bumper on the forefoot is a stiff reinforcement that feels a bit hard the first time you put it on and gives you the impression that your toes are touching it on the top. But this feeling disappears as you start using the shoes. This toe bumper, on the other hand, proves to be particularly useful in downhills where gravel and tree roots can cause trouble.
With this Mazama, Brooks has taken up the challenge of speed on all terrains. It is ideal for competitors weighing no more than 75 kg and targeting short trails (between 30 and 35 km maximum). Its mesh, its outsole and its good cushioning are the main assets of this shoe that allows Brooks to offer a quality product for a price that is affordable in comparison to the competition.
F.Chl.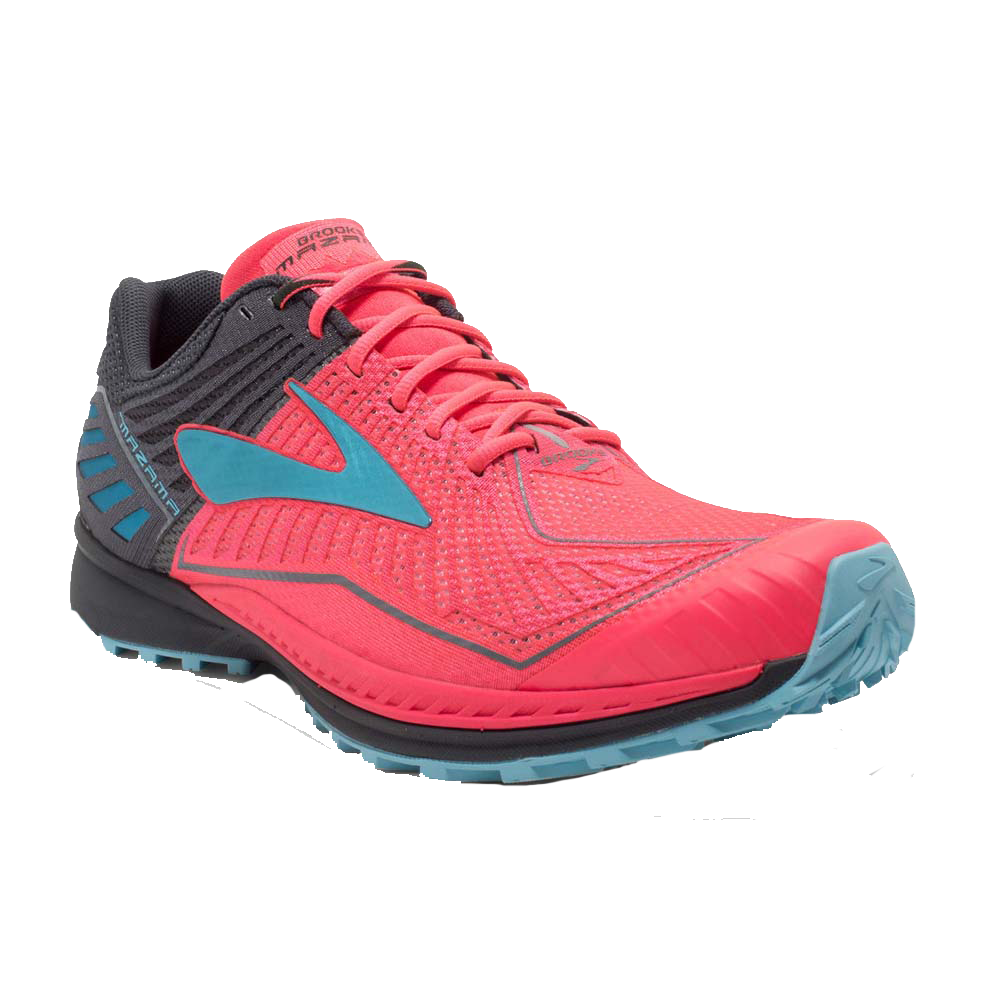 Specifications
Weight : 265 grams (size 43)
Drop : 6mm (10/16)
BioMoGo DNA Technology – Cushioning adapted to weight and speed
Rubber Outsole with directional lugs for uphill and downhill traction
Decoupled Midfoot Propulsion Plate at the forefoot creates a stable platform for powerful and aligned toe-offs
Others : Stone shield; low-cut upper; upper in thermobonded mesh, stretchable and sturdy
THE +
Lightweight
Dynamic
Very good grip on all terrains, including asphalt
Excellent cushioning of the heel and the outsole in general
Confort
THE -
A little rigid during the first strides
Toe bumper that taps on the toes during the first runs
Lightweight mesh not well suited to winter conditions
Not suitable for long distances
Sturdiness
eShop