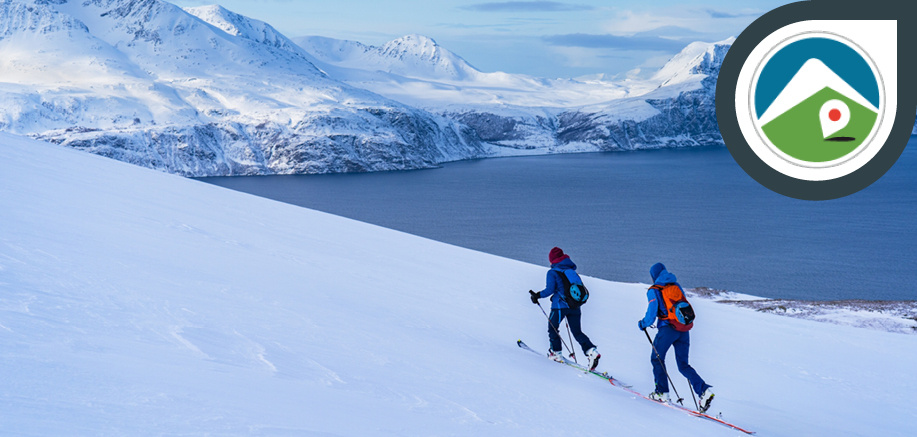 Uløya Arctic Ski Touring in Norway (Lyngen Alps)
Ski straight down from gorgeous mountain tops to sparkling blue fjords on a unique skiing adventure in the Lyngen Alps. 
---
Start every ski touring day from the very doorstep of the warm, comfy, apartment-with-a-view that you will stay in, and use a boat to hop from one powder spot to the next in the gorgeous Uløya.
---
Once you arrive at the lovely 4 to 8 person apartments that you will be staying in, at the foot of the Blåtinden (1142m), every day will hold an unforgettable adventure in store for you. The itinerary will depend on who you travel with and what you want to do, and although powder, mountains and fjords are at the heart of the program, there are some other really exciting activities that you can do as well. Some of the options that you can choose from include summiting the Blåtinden, the Grand Traverse of Uløya —a 20 km ridge ski route—, boat tours, rock or ice climbing, dog-selling, sea fishing and kid-friendly activities for those travelling with their family.
---
This program is perfect for groups of adventurous friends, families, or like-minded ski tourers that are looking for a unique and comfortable Uløya experience.
---
 cause it is a 7-day program and runs from February to May, it is the ideal ski touring holiday to enjoy away from the crowds once you're done with the busy ski resorts and ready for some real powder!
---
The price is 26,000 NOK (+/- 2800 €) per person for a group of minimum 4 people. It includes 7 nights accommodation in 4- or 8-person apartments with 2-bed sleeping rooms; 6 trips guided by experienced and highly qualified IFMGA guides, including a van with fuel for trips on the mainland; trips in Uløya and the mainland (ferry and car included); up to 2 trips to neighbouring islands or Lyngen peninsula, boats, and safety equipment included; optionally – ice climbing, snowshoeing, and other attractions; boat transfers for arrival/departure (in the absence of the ferry); local transport, and a sea fishing trip with equipment. You can also request shorter or longer stays, as well as airport transfers, optional activities, and full board at an additional cost.
---
Call to action: Don't miss the chance to enjoy an incredible Uløya ski touring adventure. 
Read the full details of this top tour and book before places run out!
Info
25 February–7 May 2023
From 2800€